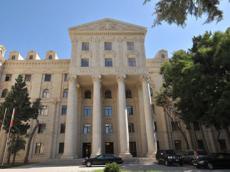 The Azerbaijani Foreign Ministry has received appeals from some individuals who have been previously included on a black list by the ministry for illegally visiting the occupied territories of Azerbaijan. These individuals have asked that the decisions are reversed, spokesman for the Azerbaijani Foreign Ministry Elman Abdullayev told journalists today.
The Azerbaijani Foreign Ministry may consider these appeals, he said.
Visiting Nagorno-Karabakh and other Azerbaijan's regions occupied by Armenia uncoordinated with the Azerbaijani side is considered illegal and the individuals who have paid such visits are included in a black list of the Azerbaijani Foreign Ministry.
As a rule it is indicated in the appeals that these individuals were fraudulently sent to the occupied territories.
As an example, Abdullayev cited an appeal of Johns Hopkins University students who have been also included in the "black list" of the Azerbaijani Foreign Ministry for illegal visiting the Nagorno-Karabakh.
The students say that their visit to the occupied territories was organized by the staff of the Armenian Presidential Administration.
Member of the Russian State Duma Alexei Mitrofanov, head of the Moscow office "Voice of America" James Brook and others are among those who appealed to the ministry, Abdullayev said.
In their appeals, they regret about these visits and emphasize that they recognize the territorial integrity of Azerbaijan and ask to delete their names from this list.
Abdullayev expressed hope that in case of deleting these individuals' names from the "black list", they would never pay such visits to the occupied territories of Azerbaijan. Otherwise, the Azerbaijani party may resort to more serious measures in accordance with international law as far as arrest for violation of the state border.
The conflict between the two South Caucasus countries began in 1988 when Armenia made territorial claims against Azerbaijan.
Armenian armed forces have occupied 20 per cent of Azerbaijan since 1992, including the Nagorno-Karabakh region and seven surrounding districts. Azerbaijan and Armenia signed a ceasefire agreement in 1994. The co-chairs of the OSCE Minsk Group, Russia, France and the U.S. are currently holding peace negotiations.
Armenia has not yet implemented the U.N. Security Council's four resolutions on the liberation of the Nagorno-Karabakh and the surrounding regions.