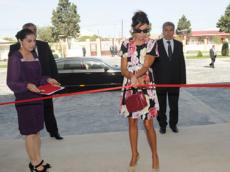 A new secondary school No 326 has been commissioned today in the Khazar District's Bina settlement of Baku. The School has been constructed as part of Heydar Aliyev Foundation`s New School to New Azerbaijan Program.
First Lady of Azerbaijan, President of Heydar Aliyev Foundation, MP elected from the Khazar District Mehriban Aliyeva attended the opening ceremony.
Mrs. Mehriban Aliyeva cut the ribbon symbolizing opening of the 880 seat, three-story school building of modern style. As stated, the School houses 44 classrooms, separate cabinets and labs, computer room, library, sports hall, conference hall, dining room, etc. The walls demonstrated photo-stands with the portraits of national leader Heydar Aliyev, President Ilham Aliyev and First Lady Mehriban Aliyeva.
Fist Lady was informed that the classrooms were equipped with stable power and heating system, various modern standard accessories.


*****
14.09.12
23:51
Azerbaijan`s first lady, President of the Heydar Aliyev Foundation, MP Mehriban Aliyeva has today opened a new building of school No 120 in Zira, Baku.
The first lady cut the ribbon symbolizing the opening of the 1404-seat facility, and then toured it. The school, which was constructed in 1960, was rebuilt last year on the initiative of the Heydar Aliyev Foundation.
Mehriban Aliyeva viewed classrooms and departments.
She was told that there were 54 classrooms, a library, an electronic library, computer and language rooms, an auditorium and a conference hall, a canteen, and teachers` rooms in the facility.
The first lady also viewed the school`s new sports ground, which has a 52-seat stand and an artificial grass cover.

 

*****
21:25
Opening of a vocational school No. 5, which was rebuilt under the initiative and support of the President Ilham Aliyev and his spouse, President of the Heydar Aliyev Foundation Mehriban Aliyeva, was held on Sept. 14 in Buzovna settlement of Baku.
First Lady of Azerbaijan Mehriban Aliyeva attended the ceremony. She cut the ribbon marking the opening of the educational facility. The First Lady then viewed photo stand reflecting the previous state of the school. The facility occupies a territory of 1.2 hectares. The school was founded in 1969. Now the school offers special training in cinema, theatre and computer engineering, accounting, hairdressing, filming, lighting, sound operating, clothing and other professions.
The term of study is two years. This year 160 students have entered the school. The number of students will be increased by 320 next year.
Then the First Lady of Azerbaijan visited the filming and sound recording studios, the assembly hall, classrooms, dressing room, sewing shop, medical center, library, and other units of the school. A sports complex for students was built in the courtyard of the school. The complex is equipped with futsal, basketball, volleyball, track and field home gym.
Ms. Mehriban Aliyeva expressed her satisfaction with the conditions established here, stressed the importance of vocational education.
First Lady of Azerbaijan inaugurates vocational School after major overhaul

Azerbaijan`s first lady  opened a new building of school No 120 in Zira
First Lady of Azerbaijan inaugurates new school building in Bina settlement of Baku
/
AzerTAc
/