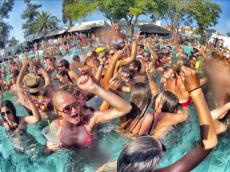 By AzerNews

Summer season is coming to its end fast. So we need to enjoy the remaining days properly. There is a good opportunity for those who have not yet found a proper time to relax.
One of the most stylish, recreational and unforgettable event of this season is pool party. Such a party will be held in the pool of the most prestigious hotels on the Caspian Sea shore "AYSBERG HOTEL".
The party will be held on August 10 at 14:00. The main sponsor of the party is "HELL energy drink".
"Pool party" is a new format for entertainment that combines drive nightclub with water sports. Having got tired on the dance floor, the guests can enjoy a refreshing dip in the pool. It is deeply rooted in all prestigious resorts in Europe and America. This is the first time that such a party is going to be held in Azerbaijan. So don't miss this chance.
The news was very exciting for most party-goers, as all day long, you will be entertained by the hosts of event, MC Amil and DJs - Fred, Mozzy, Elkhasso and special guest of the night Dj Elvin Bikoo.
This party will be a great part of your recreation. Do not forget to take with you swimwear, shorts, glasses, tops and hats.
The ticket price is 15 manats for boys and 10 manats for girls and VIP-150 manats.
Tickets can be purchased at the "Elite" mall, as well as in all "DNS Computers" stores.