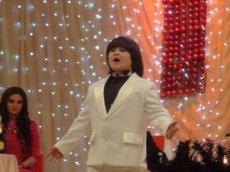 Name of the Azerbaijani boy living in Russia, the vocalist and performer of violin, 12-year-old Ali Muradov, got to the Gold Fund of Russia. Ali Muradov is the first Azerbaijani whose name entered the Gold Fund of Russia, with detailed information about this talented compatriot.
Besides, the name of the 12-year boy is put in group of excellent students – "The Medalist".
It is pertinent here to note that, Ali Muradov living in Novosibirsk is the winner of the international competitions and the Grand Prix. He took part in the international competitions and gala concerts held in Turkey, Spain, St. Petersburg, Krasnoyarsk, and Moscow. He adequately presented Azerbaijan on actions and concert programs organized by Diaspora of Azerbaijan. The 12-year-old Ali was awarded grants of the Governor from the governor of Novosibirsk Vasily Yurchenko. Recently he was awarded by the Diploma of the first degree at the "El festival De Mar Y Sol" festival carried out in Spain.
Ali Muradov also acted together with symphonic orchestras of Azerbaijan and Russia.

/AzerTAc/