Last year 957 dump-trucks, 170 special cars and 165 buses were imported to Azerbaijan from Russia.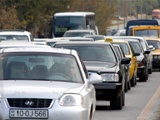 The due information was provided by Russia's trade representative in Azerbaijan Yuri Shedrin during a press conference held today.
He said 15195 passenger cars and 4,929 trucks, 43 fire-engines, 92 truck cranes, 66 concrete mixers, 157 tractors, 25 underground carriages were brought to Azerbaijan from Russia.
Shedrin noted that foodstuffs dominate the Azerbaijani export to Russia (73.3% of the total cost of production, supplied by Azerbaijan to Russia.
/Day.Az/
Related news:


Commodity turnover between Azerbaijan and Russia makes up $1,529,800,000 last year