In the framework of the Program on Improvement of Transport System of Baku for 2008-2011, Azerbaijan's Ministry of Transport will submit the Plan of Actions for approval to the President.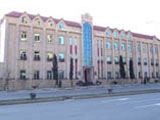 The ministry said the plan of actions envisions construction of road bridges and overpasses, footbridges and pedestrian tunnels, multistory and underground car parks etc.
It is slated to build 10 road bridges and overpasses, 11 footbridges and pedestrian tunnels and 13 car parks during 2008-2011.
/APA/