Representatives from Lafarge, the largest cement manufacturer, are doing market research in Azerbaijan.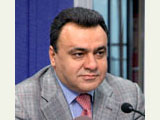 Azeri Economic Development Minister, Heydar Babayev, said a delegation has been studying raw material sources for a week.
"Lafarge's opening new cement factory in Azerbaijan was discussed on Jan.9 at the 4th meeting of France-Azerbaijan economic commission. A memo of understanding was signed. There is a high demand for cement in Azerbaijan and in the region. We have raw material resources and we support those intending to invest in non-oil sector," he said.
Lafarge wants to build a cement factory in Azerbaijan with a capacity of 1.5mln tons.
Azerbaijan's annual need for cement was over 2.6 million tons in 2006, of which 50% was supplied by Garadagh Cement. APA