Azerbaijan's ALFA Insurance will open its first branch in Sumgait in February.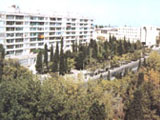 Deputy Director, Vusal Abbasov, told the APA that it is planned to open branches in Mingechevir, Jalilabad, Guba and Ganja.
During 2006 company's authorized capital leaped 2.5% to AZN 1.5mln.
ALFA Insurance (former Murad Insurance) was established in 1997. It provides 25 voluntary and 4 compulsory insurance services.
Technikabank acquired ALFA Insurance in late 2006.