Azerbaijan's Standard Insurance Company intends to open five branches in Baku and regions this year.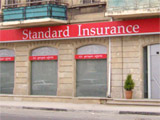 Company told the APA that it plans complex insurance programs for the existing kinds of insurance.
Company increased the total volume of insurance premiums by 26.3%, year-over-year, in January-September, to AZN 6,514,023 and made payments of AZN 1,095,440 to the inured.  This figure is a 46% increase from last year.
Established by the AB Standard Group of Companies in October, 2002, Standard Insurance's nominal capital reached AZN 4m.
It provides 4 compulsory and 20 voluntary insurance services at present.