Reconstruction of the first power unit of the Nakhchivan Gas-Turbine Power Plant has been completed and the unit is currently being tested.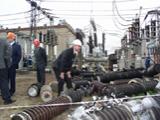 As APA informs quoting the Chief of the Nakhchivan Energy Office Yasin Seferov, reconstruction was carried out with participation of the Alstom Company of Switzerland.
"This is not our first project with Azerenergy, and we are very glad that our companies are in complete mutual understanding. Our principal position is to participate in reforms implemented by new power generating establishments in the field of national power industry", - the project coordinator of the Alstom Company Konstantin Sokolov said.
Alstom Company also participated in modernization of the Baku Thermal Power Plant and in construction of the combined-cycle plant in the "Shimal" Power Station.
Mr.Safarov in his turn, said that according to the work schedule, the second power unit will be connected to the network in March. Main and auxiliary sets of the power unit are currently installed.
It is planned to put a new power unit into operation within next two months. Generally, the power plant consisting of 4 gas-turbine sets will be put into operation in May, 2006.
"After the plan is connected to the network, it will add supplementary 40 megawatts of electricity to the power supply system. As a result, this project will improve power supply of Nakhchivan AR which is currently under blockade and receives electricity mainly from Iran and Turkey", - the Head of the Office stressed.