Armenia increased export of wood materials to other countries 6 times for the account of the forests situated in the occupied regions of Azerbaijan.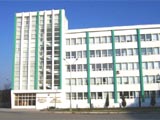 The Ecology and Natural Resources Ministry appealed the international organizations in this connection. The ecology and natural resources Minister Huseyngulu Bagirov informing the journalists about it said that the oil spots occurred in the Caspian Sea had begun disappearing in the result of garbage brought by the Terek River from the territory of Russia.
The minister considering necessary to take care of the Caspian Sea said that their appeal to the Ecology Ministry of Russia in that connection had not been responded yet. According to his words, NATO intends to finance the projects related to the Caspian Sea and drinking water in Azerbaijan.
H.Bagirov said that the best method to prevent the Caspian Sea's level's raising was to not hold building works in the territories expected to be in danger: "The level of the Caspian Sea either raises or falls every 100-200 years. The specialists do not know the reason of this process. Some of them associate this with flows and some with wind". According to the information of the minister, 33 new deposits including precious metals, polymetal building materials were revealed during last 3-4 years in Azerbaijan. There 4-5 deposits of gold in Azerbaijan at present. The conducted works in the newly revealed platinum deposits are continued.
The minister expressed his hope that those works would give the positive results in near future.
/APA/