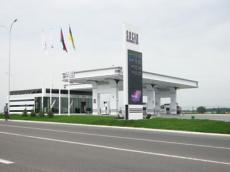 By AzerNews
Russia's Sovremennaya AZS journal has named a gas-filling station under the SOCAR Ukraine brand the best gas-filling complex of the month in September among the countries of the Commonwealth of Independent States (CIS).
The complex is located 11 kilometers from the exit from Ukraine's capital Kyiv in the direction toward Borispol International Airport.
SOCAR Ukraine, which defends the interests of Azerbaijan's state energy company SOCAR in Ukraine, owns over 60 refueling stations. Thirty six gas stations operate under the SOCAR brand in the Kyiv, Odessa, Lviv, Nikolaevsk and Rovensk regions of Ukraine.
Earlier Head of SOCAR office in Ukraine Elchin Mammadov said the company plans to bring the number of its refueling stations in this country up to 100 by late 2013.
"When entering the market, SOCAR seeks to become a market leader. Even now, with a small number of refueling stations in Ukraine, SOCAR Ukraine became a full-fledged member of the fuel market. This proves that consumers primarily value quality, not quantity," Mammadov said.
He said the company plans to develop a network in the regions of Ukraine where SOCAR has already been represented, that is Kyiv, Odessa, Lviv, Nikolaev, Rivne, and Cherkassy, as well as explore new areas, such as Zhytomyr, Kharkiv, and Dnipropetrovsk regions.
SOCAR is involved in exploring oil and gas fields, producing, processing, and transporting oil, gas, and gas condensate, marketing petroleum and petrochemical products in the domestic and international markets, and supplying natural gas to industry and the public in Azerbaijan.
The company, which is keen on expanding operations in the retail oil products market abroad, owns gas stations in Azerbaijan, Switzerland, Georgia and Ukraine. It has representative offices in Georgia, Turkey, Romania, Austria, Switzerland, Kazakhstan, Britain, Iran, Germany and Ukraine, and trading companies in Switzerland, Singapore, Vietnam, Nigeria, and other countries.