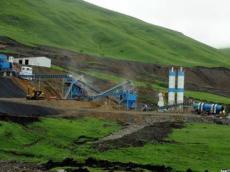 Gold producer in Azerbaijan, Anglo-Asian Mining plc launches production in the second field - "Gosha" , according to a message from the company published on Thursday.
According to the message, trial batch of 100 tons of ore was produced in the field in early September. The company will start a regular production in the field by the end of the year.
The ore will be sent to the new processing plant in Gadabay from early 2014.
Anglo-Asian Mining plans to get around 15,000-20,000 ounces of gold from the field per year.
Anglo Asian Mining has the right of exploration and production of mineral resources in an area of about 2000 square kilometres, consisting of three contract areas (Gosha, Gadabay and Ordubad) under the terms of the Production Sharing Agreement (PSA) with the Government of Azerbaijan.
The resource base of the company exceeds 36 tonns of gold, 292 tonns of silver, and 94,000 tonns of copper. The largest field developed by Anglo Asian Mining, is the Gadabay Complex Mine. The first gold and silver were mined on the field in May 2009, and the production of copper concentrate began in 2010.
The mined gold from the fields is sent to Switzerland for treatment. The ingots are brought to Azerbaijan and stored in the account of the government.



/Trend/