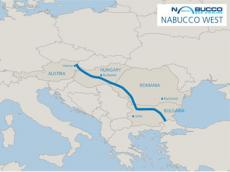 Nabucco West is holding very fruitful negotiations with the consortium of Azerbaijani Shah Deniz field development, Nabucco Gas Pipeline International GmbH spokesman, Christian Dolezal said in interview with Trend in Baku on Tuesday.
"We are in very fruitful negotiations with the Shah Deniz consortium, and we are positive that we can conclude a cooperation agreement with them by the end of this year," Dolezal said.
According to Dolezal, the interests of the Shah Deniz consortium, as well as the interests of Nabucco shareholders will be reflected in a cooperation agreement. An agreement will also include the issues of the potential shareholding and the technical aspects of cooperation.
In June the consortium of Azerbaijani Shah Deniz gas field development selected Nabucco West as the single pipeline option for the potential export of Shah Deniz Stage 2 gas to Central Europe.
Nabucco West is a short-cut version of Nabucco project, which envisages construction of the pipeline from Turkish-Bulgarian border to Austria.
The project's current shareholders are Bulgarian Energy Holding, Romanian Transgaz, Turkish Botas, Austrian OMV, German RWE and Hungary's FGSZ, and each of them holds 16.67-percent share.
Currently, the Shah Deniz consortium considers two options to deliver its gas to Europe - TAP and Nabucco West. The final decision on a pipeline route will be made in 2013.
/
Trend
/