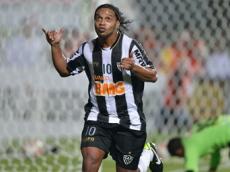 Brazil legend Ronaldinho has confirmed that he will leave Atletico Mineiro but has stated that he is not yet ready to retire.
The 34-year-old has enjoyed a remarkable career, notably with Paris Saint-Germain, Barcelona and AC Milan, while he has won 99 caps and lifted the 2002 World Cup in Japan and South Korea with his national team.
Since leaving San Siro in 2010, the Porto Alegre-born player has returned to Brazil, playing with Flamengo and latterly with Atletico - with whom he lifted the Copa Libertadores - and he believes his career still has one final chapter.
"Retirement, for now, is not a possibility," he told the media.
"Right now my brother [agent Roberto de Assis] is doing all the thinking. Starting next week, we'll talk about my future. I'll take these days to just stay away from everything and get some rest. But I know his phone has been ringing a lot."
The attacker departs the Belo Horizonte side on good terms and admitted that he was happy with his spell there, which included the club's first Libertadores success, as well as his career as a whole.
"I was happy enough to be champion at every club I've ever played, and they all have a special part in my heart," he said. "Barcelona is the club where I've stayed for longest. But Atletico has touched me very deeply. Winning a title the club had never won before, that sort of thing sticks with you. Galo is very special to me, for everything."
Ronaldinho, who is widely considered one of the 21st century's greatest players - having won the Fifa World Player of the Year prize in 2004 and 2005 - has been linked with moves to Boca Juniors and the A-League, amongst others.

/Goal.Com/