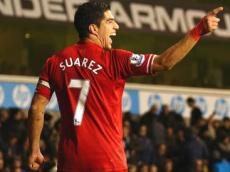 English newspaper the 'Daily Mail' printed this Monday that Real Madrid would have to pay the big-money sum of €100m during the next transfer window if it wanted to sign Luis Suárez.
The Uruguayan forward – today a striker at English side, Liverpool, and Premier League player of the month – and Real Madrid appear to have an on-going saga that peaks in terms of media coverage with the arrival of each and every transfer window. Now the British newspaper reports that €100m would be an offer that the 'Reds' would not turn down in exchange for their top goalscorer.
"Luis Suárez is firmly on Real's radar. It would be perfect if Madrid wanted to bring him in during the summer transfer window. However, Suárez's recently-signed deal with Liverpool puts his buy-out clause at €100m," according to the article penned by journalist Robert Shepherd.
The new financial fair-play rules imposed by FIFA will also have an impact on the European summer transfer market's multi-million Euro deals, and could influence Real Madrid's transfer policy. In addition, should Liverpool qualify for next season's Champions League, Luis Suárez would earn an additional £200,000 per week at Liverpool, according to the newspaper.

/Marca/