Scientific conference devoted to famous Azerbaijani poet, thinker and philosopher Nizami Ganjavi's life and literary activity was held in Mark Bloch University in Strasbourg, France.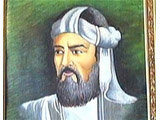 Members of the Azerbaijani delegation to the Parliamentary Assembly of the Council of Europe (PACE), head of the permanent Azerbaijani delegation to PACE Arif Mammadov, students, teachers, professors and literary critics participated in the conference organized by "Azerbaijani House" organization and Association of Students Studying in France.
MP Rafael Huseynov made a broad speech about Nizami Ganjavi's life and literary activity. Hi' touched upon the question that being an Azerbaijani poet Nizami Ganjavi wrote in Persian. Most in Europe consider Nizami a Persian poet. After his speech Rafael Huseynov was asked a lot questions. Rafael Huseynov and other parliamentarians called upon the Azerbaijani students to be active in the protection of interests of our country, APA correspondent in Strasbourg reports.