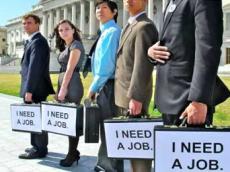 By AzerNews
Youth employment is among the top priorities of Azerbaijani government. The country is rapidly developing all sectors of its economy. This in turn will require more professional personnel to run the economy.
The unemployment rate in Azerbaijan is five percent. The figure is 9.9 for the age group 15-29 years and 13.5 for the age group 15-24 years.
Azerbaijan has successful experiences in the field of reducing unemployment. At the same time, it is one of the ten leading countries in terms of youths employment, according to the UN.
Resolving problems connected with youth employment is very important as currently, youth constitutes 30 percent of the population of Azerbaijan. To this end, the government is actively cooperating with large private companies, as well as international donors.
The Labor and Social Protection of Population Ministry has developed a pilot project called "Education to Employment: support to young, highly educated, the first-time job seekers" with the International Labor Organization (ILO). The project is aimed at facilitating young men's access to the labor market. It is considered as the successful continuation of ongoing social policy on youth employment.
The project facilitates the transition of young professionals from education sector to labor market. It also encourages the employers hiring the first-time job seekers by offering subsidized wages.
This pilot project implies signing a contract between the employers and 15 young people who could not find a job after graduation from institutions of higher education and registered as the first-time job seekers in employment centers in Baku. Meanwhile, the project implies payment of the wages of youth with the financial support of ILO with subsidized during the first 6 months, but not by the employers.
Local experts believe that the project will help young people enter the labor market. It will also increase the employers' interest. They noted that such a mechanism would be successful and more widely applied in the future.