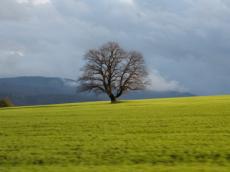 By AzerNews
Azerbaijan is a blessed land for small nationalities and ethnic groups who wish to preserve their identity, material and spiritual culture, language, and traditions.
One such group is the Molokans, members of a Christian sect who refused to obey the Russian Orthodox Church.
Known as "milk drinkers", Molokans settled in Azerbaijan in the middle of the 19th century after being expelled from Russia for refusing to practice any ritual not explicitly stated in the Bible.
Settling in Azerbaijan, these people were able to save their customs and traditions in one of the biggest Molokans villages in Azerbaijan called Ivanovka, founded in 1847.
Today, Ivanovka is a fascinating reminder of the Soviet past of Azerbaijan, and this is considered another hallmark of the village.
With over 3,000 inhabitants, the village is situated 200 kilometers away from the capital city in the northern Ismayilli region. Being dispossessed from their homeland, the hardworking Molokans did not lose courage and quickly got accustomed to their new location.
The village grew year by year, and a collective farm, specialized in growing table grapes and cattle farming on the fertile black soil, was established in 1930.
During the Soviet period, community was a shining example of productivity in Azerbaijan, but after the World War II, the village went through a difficult time, since many men had died in the war.
However, the energetic Molokans managed to improve the farm and turned its fortunes around.
Currently, the village is a home for Russians, Azerbaijanis, Belorussians, Ukrainians, and Lezgins compactly living here, which is another characteristic feature of the village.
Travelling to this village will give you a big surprise. Locals are blond-haired and blue-eyed, living in Russian-style timber-framed houses. The puritan nature of the Molokans' religion prohibits alcohol drinking, smoking, and swearing.
Do not let the three-hour ride from Baku to stop you from visiting this rural paradise. Endless fields and fruitful gardens are waiting for you in the collective farm.
Ivanovka is famous for its fresh dairy products, tasty fruits, and vegetables, so, as in any other Azerbaijani village, you won't have a chance to stay hungry here.
Guesthouses and all the conditions for a comfortable rest away from the noises of the big city exist in the village.
When travelling to the northern Azerbaijan, do not forget to visit the Ivanovka village to experience another extraordinary place in the country and meet this exceptional culture.