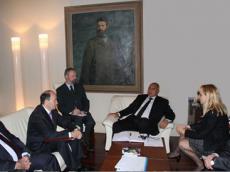 Azerbaijan`s delegation led by justice minister Fikrat Mammadov visited Bulgaria on October 22-24.
The Azerbaijani minister`s first meeting took place with his Bulgarian counterpart. Mammadov mentioned the agreements on legal cooperation signed between Azerbaijan and Bulgaria during national leader Heydar Aliyev`s visit to Sofia in 1995. He also briefed the Bulgarian minister on the justice reforms being held in Azerbaijan under President Ilham Aliyev.
The Bulgarian Justice Minister said her country places special emphasis on cooperation with Azerbaijan. She noted Bulgaria would benefit from Azerbaijan`s experience in legal sphere.
During the visit, Mammadov also met Bulgarian Prime Minister Boyko Borisov. The Prime Minister said Azerbaijan was a strategic partner for Bulgaria. Borisov recalled his visit to Baku this April. The Premier asked the Azerbaijani minister to convey his greetings to President Ilham Aliyev. They underscored the importance of reciprocal visits of delegations and exchange of experience in judicial field.
The Azerbaijani Minister also met chairperson of the National Assembly of Bulgaria, Tsetska Tsacheva. She said development of relationship with Azerbaijan was one of priorities of Bulgaria`s state policy. Tsacheva recalled her visit to Azerbaijan in May this year. She also praised relations between the two countries` legislative bodies.
Then a meeting was held with head of the Bulgaria-Azerbaijan interparliamentary friendship group. The discussions focused on prospects for development of relations between the two countries.
The Azerbaijani delegation met Evgeni Tanchev, president of the Constitutional Court of Bulgaria, Lazar Gruev, president of the Supreme Court of Cassation and Boris Velchev, Prosecutor-General.
The delegation also held meetings at the Supreme Administrative Court and National Justice Institution and visited Sofia City Court.
The discussions at the meetings focused on the ongoing judicial reforms in Azerbaijan, and consequences of Armenia`s aggressive policy against Azerbaijan. Members of the Azerbaijani delegation also visited Bulgaria`s Gabrovo province where they met high-level officials and viewed cultural and historical monuments.
Azerbaijani ambassador Emil Karimov was present at the meetings.
/
AzerTAc
/