Iranian Foreign Minister Manouchehr Mottaki says regional problems will not be resolved until foreign forces leave the area.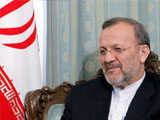 Mottaki noted that the Middle East issues should be resolved through regional cooperation, reiterating that foreign forces must leave the region.
"We believe that problems in the region must be resolved through a regional approach," Mottaki said in a meeting with Kenyan Assistant Foreign Minister Richard Onyonka in Tehran on Monday.
"Under conditions that occupation and terrorism have caused various problems for the region, foreign forces claim to be fighting terrorism and extremists say they are fighting against occupation."
He went on to say that the vast potential of Iran and Kenya could pave the way for closer cooperation between the two nations.
Onyonka said that Kenya is interested in boosting ties with Iran and is especially keen to expand economic cooperation with the Islamic Republic.
He also invited Iranian companies to take part in economic projects in Kenya.
On Monday, Mottaki also met with the Sudanese ambassador to Iran, Soleiman Abd-al-Tawwab al-Zein, who praised Iran for its role in helping resolve the Darfur crisis.
/Press TV/