Iran enters gas talks with Iraq
21 January 2010 [13:05] - TODAY.AZ
Iran has entered into talks with Iraq for supplying its neighbor with natural gas, a senior Iranian gas official says.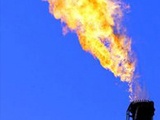 The Deputy Managing Director of the National Iranian Gas Company, Mostafa Kashkouli, said that Iran is in negotiations with Iraq to pump its gas to the country via two pipelines that cross the border at Dehloran and Khorramshar, but he offered no details.

Kashkouli says the Islamic Republic seeks to increase its share of the gas export market by finding new consumers.

Last year, Iranian Oil Minister Massoud Mir Kazemi suggested that Baghdad might benefit from Iranian gas in its efforts to increase electricity production.

Iran possesses the world's second largest gas reserves, which compose almost 16 percent of the world's total. The country is eager to expand its consumer base for energy resources.

/Press TV/

Views: 1889
Connect with us. Get latest news and updates.