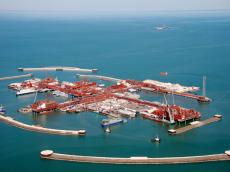 By Azernews
By Kamila Aliyeva
Kazakhstan intends to produce more than 104 million tons of oil per year by 2025.
This was announced by Kazakh Energy Minister Kanat Bozumbayev at a government hour on the development of the oil and gas sector in Kazakhstan on May 21.
The volume of investments in major projects that will make a significant contribution to the economic growth of the country in the medium term is $ 1.5 billion, according to the minister.
The volume of oil production will grow annually, and by 2025 will reach the level of more than 104 million tons in year, he noted.
Bozumbayev went on to say that oil and gas projects of Tengiz, Karachaganak and Kashagan remain the growth drivers in the oil production sector.
In 2017, with the launch of industrial development of Kashagan field, the annual volume of oil production in Kazakhstan increased from 78 million tons to 86.2 million tons.
"In other groups of fields, there is a decrease in production due to the late stage of development and significant production of reserves," he added.
He added that for the four months of 2018, oil production in the republic amounted to 30 million tons, showing an increase of 6 percent compared to the same period last year.
According to preliminary data, oil production is expected to reach 87 million tons this year.
Kazakhstan's proven oil reserves as of early 2016 stood at 30 billion barrels, according to the BP Statistical Review of World Energy.
Tengiz, Karachaganak and Kashagan are the largest oil fields in Kazakhstan. Three oil giants will be able to bring Kazakhstan's oil production to a new level in the coming years even if new oil fields are not discovered.
With the start of oil production at the Kashagan field, the forecasts of several international organizations on oil production in Kazakhstan immediately grew.
Analysts from the International Energy Agency (IEA), OPEC, the Energy Information Administration of the U.S. Department of Energy (EIA) link the increase in oil production namely with the Kashagan field.