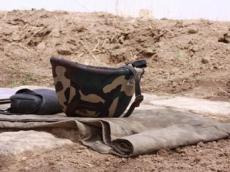 By AzerNews
The Armenian authorities' indifference towards the lives of army soldiers has sparked outrage among ordinary people.
Local media reports that Armenian soldier's dignity, psychological conditions, health, or lives mean little or nothing for commanding officers. The situation in the army is deteriorating daily, which is confirmed by the high number of suicides and killings among soldiers.
"Annually dozens of soldiers are killed in non-combat conditions. The number of died soldiers is unacceptably high. Even the Defense Ministry has admitted this fact," media report noted. "There are many other soldiers who have returned home as disabled persons. Most of them face violence and undignified treatment in the army," local media reported.
In 2013, 16 Armenian servicemen lost their lives due to top commanders' negligence. Eight of them died as a result of suicide, four due to illness, three as a result of murder, and one service man died due to violation of rules for handling weapons, the ombudsman's report show.
Twenty six soldiers have died since the beginning of 2014 - some of them lost their life in non-combat conditions. The society believes that the figure is underestimated.
Local media said that the Defense Ministry hides the real number of killed soldiers in non-combat conditions.
"In our country, when a soldier kills his co-servicemen, no official measures are taken to tackled the problem. Instead, the authorities try to hide the real number of killings," media report underlined.
The reports further noted that in civilized countries, not only killings in the army, but also cases of abuses or undignified treatments in the military are deemed as a nation-wide emergency.
"These cases usually become a reason for creating special parliamentary commissions, retirement of military officers of various ranks, and even growing distrust against political force, which appoints the Defense Minister. But the stroy is different in Armenia," the report underlined.
Another negative fact reasoning protests in the Armenian society is that country's law provides only $10.000 as compensation for the family of killed soldier. It means that a soldier's life worth only $10.000. This is the state's only obligation to the families who have lost their sons, media report said.