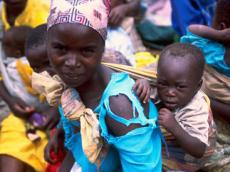 Member States today kicked off a week-long assessment at United Nations Headquarters of action taken over the past 20 years to improve people's lives and address population issues amid changes in ageing, fertility, mortality, migration and urbanization.
This year's session of the UN Commission on Population and Development will take stock of the progress and challenges since the landmark International Conference on Population and Development (ICPD), held in Cairo in 1994.
That conference established that increasing access to health and education, and protecting human rights, especially those of women and adolescents, would help secure a better social and economic future and lead to more sustainable population trends.
Secretary-General Ban Ki-moon noted that with the ICPD Programme of Action, Governments set out an ambitious agenda to deliver inclusive, equitable and sustainable development. "Over the past two decades, this agenda has contributed to significant advances," he said in a message to the Commission that was delivered by Deputy Secretary-General Jan Eliasson.
"Fewer people are living in extreme poverty. Gender equality and the empowerment of women are gaining ground worldwide. More people are living longer, healthier lives. More girls are in school. Fewer women are dying in pregnancy and childbirth. There are more laws to protect and uphold human rights."
Yet, in the midst of this human progress, the continued exclusion of some groups and the potential for serious environmental damage put these gains at risk, Mr. Ban continued.
 Moreover, changing age, household and family structures as well as rapid urbanization and migration pose new challenges for human development.
"We have an urgent responsibility, to invest in creating opportunities and a supportive environment for innovation and entrepreneurship for persons of all ages, in particular for young people. It is crucial to invest in their health and education and to review legislation, standards and practices that restrict their full participation in and access to sexual and reproductive health services."
The IPCD Global Review Report, issued by the UN in February, pointed out that much remains to be done on a range of issues, including the enormous inequalities that remain in the realization of human rights and access to vital services, as well as new challenges and opportunities related to population growth, changing age structures, rapid urbanization and migration.
"Our statistics show that there has been progress, but there is no time to rest," said Wu Hongbo, Under-Secretary-General for Economic and Social Affairs. "People are at the heart of sustainable development. We need to address population issues urgently, as few factors will shape the global development agenda as fundamentally as the size, structure and spatial distribution of the world's population."
Since 1994, the global population has grown from 5.7 to 7.2 billion. Despite slowing population growth, UN projections suggest the world's population could reach 9.6 billion by 2050, with most of the increase concentrated in the poorest countries.