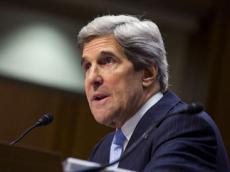 U.S. Secretary of State John Kerry will travel to Ukraine Tuesday amid an intense standoff between the West and Russia over the unfolding crisis in the East European country, the State Department said Sunday, Xinhua reported.
Spokeswoman Jennifer Psaki said in a statement that Kerry will reaffirm in his meetings with Ukraine's new leadership "strong" U. S. support for the country's sovereignty, independence, territorial integrity and the right of the Ukrainian people to determine their own future, "without outside interference or provocation."
U.S. President Barack Obama, who discussed the Ukrainian situation with German Chancellor Angela Merkel over the phone Sunday, will continue his phone talks later in the day with British Prime Minister David Cameron and Polish President Bronislaw Komorowski, a senior administration official told reporters via teleconference.
"The president's point in all of his calls is to point out the complete illegitimacy of Russia's intervention in the Crimea and Ukraine," the official said, as the Russian forces were now "in complete operational control of the Crimean peninsula."
Another senior official said Russia has moved 6,000 airborne and ground troops into the Crimean peninsula, where Russia has its Black Sea Fleet based.
Crimea, which is an autonomous republic of Ukraine, has become a focal point in the current standoff, as airports and parliament and government buildings there have been occupied by armed personnel.
Russian President Vladimir Putin on Saturday asked for and was granted authorization to use military force to protect Russian interests in Ukraine, a move that has sparked an immediate outcry from Western countries, which have been jockeying for influence in the East European country with Russia.

/Trend/