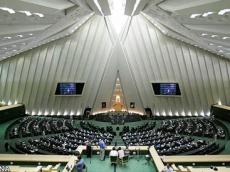 A special committee has been formed in the Iranian parliament (Majlis) to monitor the proper implementation of the Geneva nuclear deal between Iran and world six powers, the Mehr News Agency reported on January 21.
On January 12, Iran and the P5+1 group of world powers finalized the agreement to start the implementation of the Geneva nuclear deal from January 20.
The agreement, which was reached among Iran and the five permanent members of the United Nations Security Council -- Russia, China, France, Great Britain, and the United States -- plus Germany in Geneva on November 24, 2013, is aimed at setting the stage for the full resolution of the West's decade-old standoff with Tehran over its nuclear energy program.
MP Hossein Nejabat said that the committee will be chaired by Alaeddin Boroujerdi, the chairman of the Majlis Committee for Foreign Policy and National Security.
The committee is tasked with monitoring the implementation of the deal in order to prevent any violation from inspectors of the International Atomic Energy Agency, he explained.
Some 150 Iranian MPs have undersigned a letter to Majlis speaker Ali Larijani, calling him to ask the administration to provide them with details about the Geneva deal. They have protested at the nuclear negotiators, saying they have not provided MPs with all aspects of the deal.

/Trend/