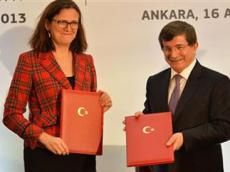 Turkey signed a long-anticipated agreement with the European Union today, refreshing hopes for new momentum in stalled bilateral relations between Ankara and Brussels.
The landmark agreement paves the way for EU governments to send back illegal immigrants crossing into Europe from Turkey in exchange for talks on visa-free travel for citizens of the country, which is a candidate for full membership.
In addition to the Readmission Agreement, Turkish Foreign Minister Ahmet Davuto?lu and EU Home Affairs Commissioner Cecilia Malmström also signed an accord to enter into discussions on dropping visa requirements for Turks visiting Europe.
The agreements as well as upcoming mutual visits between Turkish and EU leaders seem to be a sign of the mutual willingness of the two parties to breathe new life into their long-stalled relations.
"The gateway to Europe without a visa will now be open," Prime Minister Recep Tayyip Erdogan said at the ceremony, assuring that Turkey would fulfill its obligations.
Ankara overtly displayed the importance it attached to the occasion by sending the prime minister and three members of the Cabinet, as EU Minister Egemen Bagis and Interior Minister Muammer Guler were also present at the ceremony.
The ceremony in Ankara came after Turkey and the EU began a new round of membership talks last month following a three-year hiatus.
Erdo?an said the move would add "momentum and excitement" to Turkey's EU process. He recalled that he is scheduled to pay an official visit to Brussels on Jan. 21 and added that French President Francois Hollande would also pay a visit to Turkey on Jan. 27-28. "These visits represent an opportunity to give a new impetus, a new enthusiasm to our relations with the European Union," he said.
While in Brussels, Erdogan will hold talks with European Council President Herman van Rompuy, European Commission President José Manuel Barroso and European Parliament President Martin Schulz.

/HurriyetDailynews/