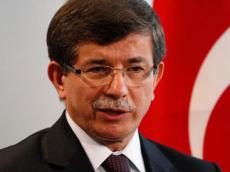 Foreign Minister Ahmet Davutoglu is set to begin a three day tour in Syria on Oct. 22 to deliberate the developments concerning Syria and its chemical weapons.
Following a deal under which Syria will turn over its chemical arsenal to be destroyed, the international community renewed its push for a Geneva II conference.
Davutoglu's itinerary includes the United Kingdom, where he will attend the core group meeting, the Friends of the Syrian People, on Oct. 22, along with 10 other prominent Western and Arab countries, including the United States. The Turkish foreign minister will then head for Oman and Kuwait, two important Gulf countries, to exchange views about the developments in Syria on the sidelines of bilateral issues.
The meeting in London has a particular importance as the core group countries will find a chance to broadly evaluate the efforts to end the bloodshed in Syria and to lead a political transition. The meeting will also give an opportunity for the core group to come together with the Syrian opposition on the eve of the upcoming Geneva II meeting, which will probably take place in late November.

/HurriyetDailynews/