Azerbaijani Defense Minister Safar Abiyev will take part in International Defense Exhibition Conference to be held on February 18-22 in Dubai.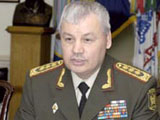 In the frame of visit Abiyev will meet with vise-president, Premier, defense minister, sheikh of Dubai, Azerbaijani Ambassador to United Arab Emirates Eldar Salimov told the APA.
Salimov said that the exhibition is one of the famous exhibitions in the world which is held every two years and Azerbaijan is one of the traditional participants of the conference.