Azerbaijan's position on Nagorno Karabakh conflict remains unchanged - territorial integrity of the state has to be restored.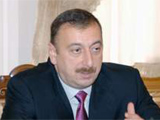 The president of Azerbaijan, Ilham Aliyev said at the flag handling ceremony during an opening of a museum and monument of Heydar Aliyev at the Ministry of National Security Academy, Trend reports.
Azerbaijan still follows the strategy of peaceful negotiations, but unfortunately, they do not yield any results.
"In that case we have to introduce changes into our policies," Aliyev said.
"Armenia disrupted the February meetings in France, showing a lack of constructivism. Their desire to drag out the negotiating process is obvious. However, the peace process' potential has not yet been completely exhausted," he said.
"There is an impression of prolonging time and imitating the negotiations. Armenia should know that we are capable to solve the problem militarily," he said.
Azerbaijan annually expands state budget expenditures on defense and they will continue to get increased, the president stated.
"This is country's sovereign right to increase defense expenditures. It is a natural process for a country engaged in a military conflict and with a violated sovereignty," he concluded.