Musavat Party leader Isa Gambar met National Democracy Institute representative in Azerbaijan Christi Kverk in the headquarters of the party yesterday.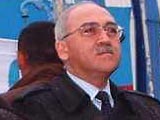 According to the information given to APA from the press service of the party, socio-political situation in the country on the eve of parliamentary elections in Azerbaijan, perspectives of cooperation between America NDI and Musavat Party were discussed in the meeting.
Opinions were exchanged on the expected visit of the USA former State Secretary Madlen Albright to Baku. Deputy Musavat leader Arif Hajili also attended the meeting.