Following the official start of parliamentary elections the opposition will allowed to hold electioneering, Trend reports quoting Ali Hassanov, the head of the Public and Political Department of the President's Executive Power as saying to journalists.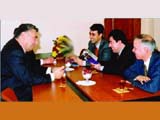 The rallies by radical opposition will be sanctioned depending on their behavior in this period.
"Over the past ten years the opposition has been allowed to arrange street walks and rallies. However, following the mass public disorder staged in after the presidential elections on 15-16 October 2003 they were suspended. The last riots sow the uncontrolled people breaking the glasses of social facilities in the streets, city transport conveyances, made tremendous damage to the city, and injured people. So, the authorities were to bar rallies arranged by the radical opposition," Hassanov underlined.
According to Hassanov, the authorities will lift 'embargo' on the desire of opposition to organize a protest action in the end of June 2005 - beginning of July.
"All facilities will be provided for the opposition to hold protest actions, electioneering and meetings with the electors in the capital city, as well as region after the official start of the parliamentary elections. Still, the opposition should not misuse the favorable conditions," he underscored.