On March 3 President of the Republic of Azerbaijan Ilham Aliyev at the Presidential Palace made a statement for mass media in connection with murder on Wednesday at 21.00 of editor-in-chief of the "Monitor' magazine Elmar Huseynov.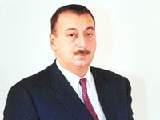 Last evening the editor-in chief of "Monitor" magazine Elmar Huseynov has been killed. I condole with family, native and close the late.
Just after happened to me have informed on it. I have given necessary instructions to heads of law enforcement bodies. As you know, now there is an investigation, and all we wait for its results.
Today in the morning I have held meeting of Security Council on which the given question was discussed. Preliminary results of investigation have been reported and wide discussion is lead. I have strictly charged to all law enforcement bodies to investigate seriously this question so that criminals have been involved in justice.
This first similar incident in modern history of Azerbaijan. Till now journalists in peace conditions never were exposed to such violence. This big spot for our country. I consider, that it is the big impact on democratic development of Azerbaijan.
Azerbaijan very successfully develops, strengthens the economic and political potential. It has assumed function of the leader in regional questions. As you know, 2005 represents very much great value for the future of the country. In 2005 should be put into operation an oil pipeline Baku-Tbilisi-Ceyhan representing exclusive value for Azerbaijan, region and first of all for Azerbaijan people. In the same year in Azerbaijan will be lead parliamentary elections. All we already now should try to do the utmost, that elections have passed in fair, transparent conditions that the will of Azerbaijan people has true found the reflection, has been expressed on elections.
In a word, I consider that 2005 becomes a key to further development of Azerbaijan. Therefore a similar provocation, misdeed, certainly, causes our extreme concern. First of all the young man is killed, its natives are remained without the head of the family. On the other hand, some forces can of it seize an opportunity for maintenance of own interests. Of it can seize an opportunity both internal forces, and external circles.
As investigation is underway, I would not suggest any version. And it would not be right. Interrogation is underway and if necessary we stand ready to cooperate with the international experts either. Our law-enforcement bodies have already addressed the relevant instances. In any case, if necessary, we are ready to do it and we initiate on the item. The major is to swiftly reveal the crime and bring the organizers of this murder to response.