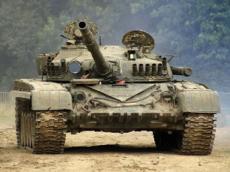 Azerbaijan purchased 153 battle tanks from Belarus in 2004-2012, APA reports quoting UN Register of Conventional Arms.
According to the UN Register, Belarus also sold various modifications of T-72 tanks to Azerbaijan.
Moreover, during the reporting year, Azerbaijan acquired 120 D-30 guns, 12 2S7 Pion self-propelled howitzers, 60 BTR-70 armored personnel carriers and 11 Su-25 aircrafts.
The report does not include Buk-MB missile systems, which were purchased from Belarus and showcased in the military parade in Baku, 2013. 
/APA/