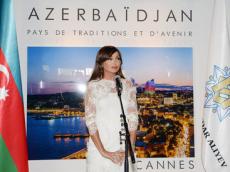 "Azerbaijan: the country of traditions and future" exhibition has opened at the Palace of Festivals and Congress Hall in the French city of Cannes as part of the days of Azerbaijani culture.
Azerbaijan`s first lady, president of the Heydar Aliyev Foundation Mehriban Aliyeva attended the event.
Speaking to the opening ceremony, director of the Palace of Festivals and Congress Hall Claire-Anne Reix said Azerbaijan had made successful presentations in Cannes for the second year, hailing this as a remarkable event in the city`s life.
First lady Mehriban Aliyeva addressed the ceremony. She praised Azerbaijan-France cooperation, saying it covered many areas. "Cooperation between our countries is built on mutual respect, friendship and interest." The first lady hailed the visit by French President Francois Hollande to Azerbaijan this May, saying "the meeting between the two heads of state once again proved the strategic nature of the relations between our countries".
The first lady hailed the economic relations between Azerbaijan and France, saying the two countries maintained good cooperation in the fields of telecommunications, urban planning, transportation, light industry, and wine-making. "There are more than 50 French companies in Azerbaijan, and this means mutual benefit. Azerbaijan is France`s main trade partner in the South Caucasus. Our trade with France is nearly two billion dollars."
Mehriban Aliyeva said the two countries enjoyed good humanitarian cooperation. "We attach great importance to the humanitarian area, which unites peoples irrespective of their language and religion. I`m happy that Azerbaijan-France humanitarian relations have reached a completely new level in the past few years. There are hundreds of Azerbaijani students at French universities. Azerbaijani language and history are being taught in many higher educational institutions in France. At the same time, there is a French lyceum in the Azerbaijani capital of Baku. The Azerbaijani government contributed to the establishment of the Islamic Arts Department at Louvre, the Heydar Aliyev Foundation contributed to the restoration of the Cathedral Church in Strasbourg and historic and architectural monuments in other regions of France."
"Supported by the Heydar Aliyev Foundation, we have organized exhibitions, concerts and other events in the French capital and 20 cities with the aim of promoting Azerbaijan's culture and arts."
Member of the French National Assembly, chairman of the Friends of Azerbaijan Association Jean-François Mancel said such events contributed to "bringing the two nations closer to each other".
The opening ceremony was followed by a concert of the Gara Garayev State Chamber Orchestra conducted by People`s Artist Teymur Goychayev.