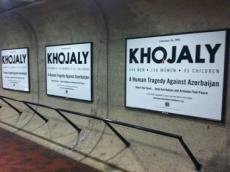 Monument on Khojaly genocide to be erected in Germany's Bilefeld, Germany-Azerbaijan Cultural Society's head Tarana Tagiyeva told
Trend.
According to her, this issue was addressed to Bilefeld City Hall.
"Mayor gave a positive response to the appeal", she said, adding that hopefully, the monument will be erected in the near future.
***
Petition related to the Khojaly tragedy was registered in the German Bundestag (parliament), European Azerbaijanis Congress president Samira Patzer-Ismailova told Trend.
According to her, the petition was transferred to the backup department of the Bundestag.
Patzer-Ismailov hoped that after certain procedures petition will be accepted in the German Parliament.
Each year, fellow citizens of Khojaly address the Bundestag to secure their right to life on Human Rights Day, Patzer-Ismailova added.