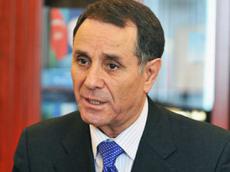 Azerbaijani President Ilham Aliyev's speech in Prague testifies to the level of bilateral relations between Azerbaijan and Turkey, Azerbaijani Presidential Administration's Deputy Head and Director of Administration's Foreign Relations Department, Novruz Mammadov told media on April 29.
"The president's speech once again demonstrated how he is loyal to friendship, brotherhood, partnership," Mammadov said.
"This really testifies to the high level of relations between Azerbaijan and Turkey," he added. "The two countries will continue their partnership, brotherhood and cooperation further in the same manner."
During the Prague Summit with the participation of the heads of states and governments, dedicated to the fifth anniversary of the Eastern Partnership program, Armenian President Serzh Sargsyan devoted the entire speech at the plenary session of the summit to his thoughts on the so-called Armenian genocide.
While using the absence of Turkey at the summit, he exaggerated the issue of the "Armenian genocide" and criticized Turkey. President Sargsyan accused Turkey of the non-constructive position on so-called genocide on the one hand, and closing the border with Armenia on the other hand. He added that it is unacceptable for this country to become a member of the EU. In his speech, the Armenian president tried to convince the participants of the meeting that the European public must take a more active position on the issue of "genocide".
While speaking at the plenary session, Azerbaijani President Ilham Aliyev regretted that the Armenian counterpart used the opportunity to once again attack Turkey.
"It is easy to do this because there are no Turkish representatives at the moment," he added. "But I am here and I can say why the Turkish-Armenian border is closed."

/Trend/