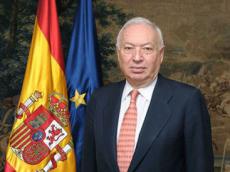 The bilateral relations between Azerbaijan and Spain are very good, Spanish Foreign Minister José Manuel García-Margallo told Trend on the eve of his official visit to Azerbaijan. There is a wide margin for improving them in terms of economic, trade, and cultural issues. Spain's priorities include strengthening these bilateral relations to make the utmost of the opportunities that both Spain and Azerbaijan have to offer, especially regarding trade.
"The economic relations between the two countries, for the time being, are not in consonance with the size of their respective economies," he said. "For this reason, one of the main issues that we seek to address during this visit is the need to explore, together, ways to draw on the existing potential of our respective markets in order to further develop our bilateral trade and investment relations."
"A number of Spanish companies are leaders in their industries-for instance, infrastructure and renewable energy," García-Margallo said. "Spain is a world leader in renewable energy. In this sense, the Spanish government is fully convinced of the good cooperation that we will see in the very near future between Spain and Azerbaijan to enhance the energy potential of both countries. Likewise, there are interesting opportunities for Azerbaijani investment in Spain."
While speaking about Azerbaijan's investments, García-Margallo stressed that Azerbaijan has become a regional power that has a great deal to contribute, not only to its own region, but also in the rest of Europe and Asia. Spain wants to have greater trade relations with Azerbaijan, and increase the volume of investments in both directions.
García-Margallo stressed that the relations between Azerbaijan and Spain are very good.
"We believe that Azerbaijan is a key country in the South Caucasus, and therefore we have decided to open a Spanish Diplomatic Mission in the European Union Delegation, as a first step to opening an Embassy, when budget conditions allow," he added.
"Without a doubt, our desire is to be able to open an Embassy in Azerbaijan as soon as possible," Spanish Foreign Minister added.
"We are aware of the leading role that Azerbaijan can play, due to its energy wealth and geographic position," he said. "These assets offer your country a wide scope for cooperation with the EU regarding energy supply and energy security. Indeed, this cooperation is one of the most important issues on the EU-Azerbaijan agenda."
"Concerning supply, there are three critical ones, all three of them related to diversification-be it the sources of energy, the origin of supply or the transportation routes," García-Margallo said. "In all three of these, Azerbaijan has a very important role to play. Concerning these three aspects, our cooperation shall be mutually beneficial."
"Regarding the Armenian-Azerbaijani Nagorno-Karabakh conflict, Spain has a keen interest in a politically stable and economically prosperous South Caucasus," he added. "Spain vigorously supports the work of the OSCE and the Co-Chairs of the Minsk Group. Only a strong commitment on the part of all the parties concerned, and a negotiated settlement in accordance with international law, can lead to peace, stability and reconciliation."

/Trend/