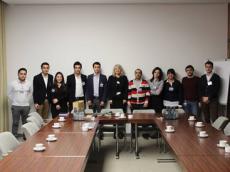 By Mushvig Mehdiyev
Azerbaijani youth held an important meeting with the German parliament members.
A group of members of Bremen Azerbaijani Society met the Bremen parliamentarian, deputy from SPD party Mustafa Gungor on February 18. Promotion of Azerbaijani truth in Bremen, prospects for cultural exchange projects with local Turkish and Muslim communities, as well as making German society aware of Azerbaijani culture were the main topics of the meeting.
11 members of the Bremen Azerbaijani Society joined the session at the Bremen parliament, had a meeting with the parliamentarian mrs. Valentina Tuchel on February 26. Mrs. Tuchel was given detailed information about Azerbaijan. She, on her turn, told about the mutual values of and relations of the German and Azerbaijani societies, underlined the lack of written litearature about Azerbaijani culture as one of the main issues to be solved for the Society.
Then, mrs. Tuchel was presented "Karabakh Singers", Miniatures", "Carpets of Azerbaijan", "Azerbaijani Musical Instruments",  "Azerbaycan-Frederic Dubois de Monperraux", "Germans in Azerbaijan", "Nagorno-Karabakh Conflict" (author: Johannes Rau) etc. books published by the Heydar Aliyev Foundation in German language, disc and photo collections. Several prospects for the Azerbaijani Society's faster integration in Germany were defined throughout the discussions.
Furthermore, the importance to present books containing essential information about Azerbaijan to the Parliament's library noted during the meeting. At the end of the sitting, the founder of the Bremen Azerbaijani Society Araz Baghirli thanked the parliament member for her kind attention.
Note that Bremen Azerbaijani Society was founded by Azerbaijani students in Bremen, in December, 2012. The main goal of the society is to create the Bremen union of Azerbaijanis, bring them under same roof, promote Azerbaijani culture in Germany and contribute to the statehood of Azerbaijan.