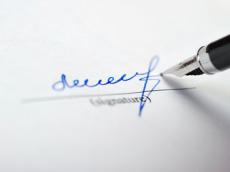 Azerbaijan is preparing to sign a readmission agreement with Norway and Switzerland, the Azerbaijani Deputy Foreign Minister Mahmud Mammadguliyev told
Trend
on Feb.28.
Azerbaijan has signed a similar agreement with the European Union (EU) which the deputy minister believes will provide Azerbaijan with facilitated visa and travel procedures.
Azerbaijan and the EU signed a visa facilitation agreement in November 2013 within the EU summit at Vilnius. This will not require the signing of such agreements with individual EU member states, according to Mammadguliyev.
"We are working on the agreement with Norway and Switzerland which have close relations with the EU and are included in the Schengen area. Work is underway and I believe they will also be ready to sign the agreement soon," Mammadguliyev said.
For the visa facilitation agreement to come into force, it is necessary to complete the work on its ratification in the European Parliament and the Milli Majlis (parliament) of Azerbaijan, according to the deputy minister.
"Everything depends on how soon the agreement will be ratified. This is expected to take place in the upcoming month. I believe, the agreement will take effect in the second half of 2014," Mammadguliyev said.