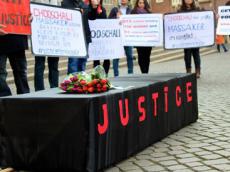 Bremen Azerbaijani Society arranged demonstration named "R.I.P. JUSTICE" in Bremen city of Germany on February 25, 2014. Demonstration began from the front of Bremen Parliament and continued through the central streets of the city. Participants of the action carried "Justice for Khojaly", "Time: 22 years ago", "Biggest massacre of the conflict: Khojaly", "Wanted: Justice, Lost: In Khojaly" banners throughout the demonstration. One of the most attractive sides of the event was black coffin with "Justice" writing on it. Organizers aimed to ask "Have justice died!?" through that step of theirs. Local Muslims, Turks and German youngsters joined demonstration participants.
Action was much more different from the other ones since it ignited great interest for Bremen residents with its creative arrangement. Brochures providing detailed info about Khojaly, as well as "Völkermord Von Chodschali" (Khojaly Genocide) and German author Johannes Rau's "Der Berg-Karabach Konflikt" (Nagorno-Karabakh Conflict) books have been distributed during the event.
Head of the society Araz Baghirli noted that the event was more effective than it was expected to be.
Azerbaijani students in Bremen organized the action by their own initiative and financial support. Note that Bremen Azerbaijani Society has been founded by Azerbaijani students in Bremen, in December, 2012. The main goal of the society is to create the Bremen union of Azerbaijanis, bring them under same roof, promote Azerbaijani culture in Germany and contribute to the statehood of Azerbaijan.
Translated and edited by
Mushvig Mehdiyev