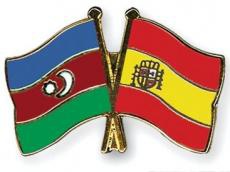 Members of the Azerbaijan-Spain interparliamentary working group at the Azerbaijani
Parliament have met their counterparts at the Spanish parliament as they visited Baku.
They discussed relations between the two countries`s legislative bodies.
Head of the Azerbaijani working group Fazail Agamali said his country was keen to strengthen overall relations with Spain. He said the relations between the two countries received a strong impulse after Azerbaijan`s regaining its independence.
Agamali highlighted the causes and consequences of the Armenia-Azerbaijan Nagorno-Karabakh conflict, and also raised the Spanish parliamentarians`s awareness of Azerbaijan`s achievements over the recent years. He said Azerbaijan was particularly playing an important role in ensueing European energy security.
Member of the Spanish working group Jose Maria Chikio stressed the significance of mutual visits and meetings in terms of expansion of bilateral relations.
He said Spain would support Azerbaijan on the settlement of the Nagorno-Karabakh dispute. 
/AzerTAc/