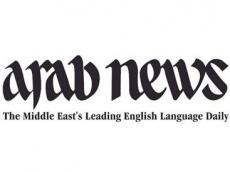 The Saudi Arabian newspaper "Arab News" has posted an article titled "People of Azerbaijan voted freely and overwhelmingly for President Aliyev" by head of the Political Analysis and Information Provision Department of Presidential Administration of the Republic of Azerbaijan Elnur Aslanov.
The article says: "The people of Azerbaijan in a free manner expressed their conscious choice at the presidential elections on Oct. 9, 2013.
However, it is regretful that after the elections, Azerbaijan was the target of unfair and biased criticism. Such overcritical approach started even before the announcement of the official poll results and was obviously visible in the reports filed by some media outlets.
Irony is that the true essence of the elections was distorted and the firm will expressed by the people of Azerbaijan at the elections has been deliberately sidelined and only sporadic technical irregularities and violations, such as inadvertent activation of mobile apps of elections in test regime, has been blown out of proportions without proper investigation. As if that is not enough, such cases have been generalized, misused for certain political objectives and have been unfairly attributed to the whole outcome of elections.
It needs to be recalled that the people of Azerbaijan voted for the achievements that the country has made in recent years, and for the future that it aspires to build. Active participation of voters is yet another testimony of the importance attached by the people of Azerbaijan to this election. It also indicates that in a society like Azerbaijan, where literacy level exceeds 98 percent and culture of political awareness is extremely high, the people cannot remain idle or indifferent to its future. Given that Azerbaijani youth makes up approximately 66 percent of the Azerbaijani population, overwhelming win for President Ilham Aliyev reflects that he managed to unite the support of young people and by that he wrote a new chapter with the young generation of Azerbaijanis — and that is symbolic for a young democracy as Azerbaijan. Therefore, by actively participating, expressing their vote freely, and endorsing its outcome the people of Azerbaijan have given its own appraisal to the elections. Beyond people's approval nothing more is needed to consider any election free, fair, democratic and successful.
Furthermore, long-term and short-term election observation was conducted by more than 53,000 observers, including 1300 international observers, which represented 100 countries and 50 international and non-governmental organizations, such as OSCE, the Parliamentary Assembly of CoE , the European Parliament, CIS, GUAM, OIC, BSEC, ECO and the Council of Turkic Speaking Countries and others. All assessments by the international organizations and national observer teams have regarded the elections, free, fair, democratic and transparent. The results of exit polls conducted by five independent institutions from Azerbaijan, United States and France have concurred with the official outcome of elections with small margins.
Only OSCE/ODHIR came up with the groundless and controversial conclusions about the outcome of elections, paying no heed to the report and assessment of OSCE Parliamentary Assembly observer team and observer mission designated by the OSCE chairman in office, whose members refused to undersign the report of OSCE/ODHIR. Such ridiculous condition where OSCE/ODHIR has found itself does not withstand any criticism. Throughout its inefficient existence OSCE/ODHIR has failed to produce a unified methodology of observing the elections. Therefore, this institution's selective judgments on elections based on political views and "case by case" approach gives no room about the impartiality of this institution.
At the technical level all necessary preparations were made to conduct elections at the highest level. At the polling stations even web cameras were installed to monitor elections at online regime. In the meantime, all necessary measures have been implemented for free registration of candidates, election campaigning, freedom of assembly and expression in the election process. All candidates have also been provided with free broadcasting time at the national public TV. Also, in a country where unrestricted access to Internet and social media is guaranteed, claims for lack of enough broadcasting time cannot be considered serious.
Of course, there is no perfect or ideal election in the world and in all cases certain irregularities and human errors are unavoidable. But, making hasty conclusions without prior investigation based on meager technical irregularities and by means of which casting shadow over the entire election process are sheer acts of disrespect to the voters. The Central Election Committee of Azerbaijan has already started investigation to find out if any irregularity took place at any polling station."

/AzerTAg/