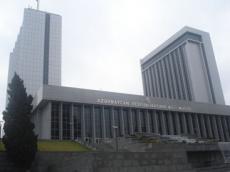 Milli Majlis (Parliament) of Azerbaijan of the fourth call will launch its regular autumn session today.
A total of 31 issues have been included into the agenda of this session.
The agenda includes new bills and legislative acts approved in the first and second readings of the previous session, including on the judges of Baku Appeal Court, on dismissal of the judges of Baku, Ganja and Shirvan Appeal Courts, on the cooperation agreements between Azerbaijan and Georgia on elimination of the consequences of emergency situations, the approval of the Declaration of the Third Summit of the Turkish Speaking countries, on the framework agreement between the Azerbaijan Government and the European Investment Bank (AIB).
Some other bills and legislative acts on taxes, civil, criminal and administrative offences, sports, entrepreneurship, social insurance, natural monopolies, health and agriculture are also on the agenda. 

/AzerTAg/