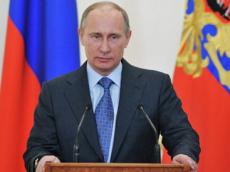 Russian President Vladimir Putin congratulated Azerbaijani counterpart Ilham Aliyev with victory at presidential election in the country.
"Dear Ilham Heydarovich,
Please accept my heartfelt congratulations as you are re-elected the President of the Republic of Azerbaijan," the message said.
"Your landslide victory testifies to your high political influence, and the people`s active support for the course of activity - carried out under you - aimed at ensuring the country`s socio-economic development and strengthening its international positions," the message said.
"It is my hope that we will continue our joint work toward strengthening Russia-Azerbaijan strategic partnership, and expanding our mutually beneficial relations on all fronts. This fully complies with the interests of our friendly nations, and serves to ensure stability and security in the South Caucasus," the message said.
"I wish you good health, happiness and further successes in your responsible activities as the head of state," the message said.

/Trend/