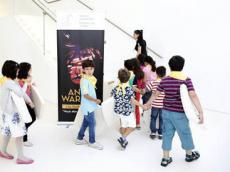 Heydar Aliyev Center started the implementation of a new project for pupils on the eve of the new academic year.
The project serves for upbringing of the new generation on the basis of national and spiritual values and traditions, affection to historical heritage, serves for expansion of knowledge about the country, formation of idea of the modern world culture, a message from Heydar Aliyev Center said on Monday.
According to the project, group excursions of schoolchildren to Heydar Aliyev Center are being organized.
Within 3 hours, schoolchildren become familiar with the Center's building, they're provided with information about the life and activity of Heydar Aliyev, the national leader of Azerbaijani people, become familiar with the exhibitions at the Center, participate in different games and competitions.
Different interactive training programs are organized for each age category and gifts are given as keepsakes.
/Trend/