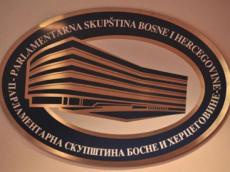 On Tuesday in the House of people (upper chamber) of parliament of Bosnia and Herzegovina the absolute majority of voices accepted the official document on recognition of Khojaly genocide and aggression of Armenia against Azerbaijan, Trend was reported in the embassy of Azerbaijan in Bosnia and Herzegovina.
The resolution "Recognition and respect of the sovereignty and territorial integrity of Azerbaijan" is the first document of such kind accepted by parliament of Bosnia and Herzegovina.
On Feb.25-26, 1992, Armenian occupation forces together with the 366th infantry regiment of Soviet troops stationed in Khankendi (previously Stepanakert) committed an act of genocide towards the population of the Azerbaijani town of Khojaly.
Some 613 people were killed including 63 children, 106 women and 70 old men. A total of 1000 civilians were disabled during the genocide. Eight families were killed, 130 children lost one parent and 25 lost both. Additionally, 1275 innocent residents were taken hostage, while the fate of 150 remains unknown.

/Trend/