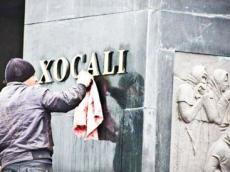 A national public awareness campaign was launched by the Azerbaijan America Alliance to educate Americans about the Khojaly genocide, the website Heraldonline reported on Tuesday.
The campaign started on Feb.18, when several multimedia projects aimed at educating U.S. citizens about the Khojaly genocide were launched.
The multimedia campaign's biggest impact will be felt in Washington, D.C., and New York City, where hundreds of posters with the headline 'KHOJALY...A Human Tragedy Against Azerbaijan' will be seen in subway stations, bus stops and on buses and on stationary and mobile billboards, Heraldonline reported.
The National Mall in Washington and Union Station. Times Square and the United Nations in New York are several of the many heavily trafficked and iconic locations targeted by the campaign
The public awareness campaign will last for several weeks and be seen by millions of Americans.
President Obama, the U.S. State Department, the U.S. Congress and the American public are being asked to learn more about the Khojaly tragedy and Azerbaijan, a friend and ally of the U.S. located in a very challenging and geo-politically important part of the world, Washington Post reported.
On Feb. 25-26 February, 1992, Armenian occupation forces together with the 366th infantry regiment of Soviet troops stationed in Khankendi (previously called Stepanakert) committed an act of genocide towards the population of Azerbaijani Khojaly town.
Some 613 people were killed including 63 children, 106 women and 70 old men. A total of 1,000 civilians were disabled during the genocide. Eight families were killed, 130 children lost one parent and 25 lost both. Additionally, 1275 innocent residents were taken hostage, while the fate of 150 remains unknown.

/Trend/

*****
14:20
A signature collection and informative campaign dedicated to the 21st anniversary of the Khojaly genocide will be held in central streets of Hanover, Germany.
According to activist of the Azerbaijan Students Union in Germany Elshan Atayaroglu, the campaign will be supported by the HAK- Hannover Anadolu Eagles and the Students Union.
The campaign will see distribution of books, booklets, CDs and DVDs on the massacre among local residents for signing to be further submitted to German government agencies.
/AzerTAc/