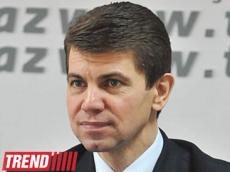 As OSCE chairman, the Ukraine intends to achieve progress towards a peaceful settlement of the Nagorno-Karabakh conflict.
"We understand that Azerbaijan expects some real steps from Ukraine in a conflict settlement. And believe me, we are trying to do everything possible to resolve the conflict by peaceful means, or at least direct it towards real ways of a settlement," Ukrainian Ambassador to Azerbaijan Alexander Mishchenko told journalists on Thursday.
He said the main task that Ukraine has set for itself as OSCE chairman is to find the points that would unite the efforts of the OSCE Minsk Group and lead to a change in the status quo and beginning of real negotiations on the conflict settlement.
"We are not saying that we can resolve all the issues during our presidency. This is not real and no one sets such a goal, but we have set an ambitious goal to move the process forward," he said.
Mishchenko also noted that today the OSCE Minsk Group is the only possible and acceptable format for negotiations and its work has to be activated.
The ambassador said the visit of the Ukrainian Foreign Minister, the acting OSCE chairman to Azerbaijan and other countries of the South Caucasus is expected.
Ukraine has been chairing the OSCE since January
The conflict between the two South Caucasus countries began in 1988 when Armenia made territorial claims against Azerbaijan. Armenian armed forces have occupied 20 per cent of Azerbaijan since 1992, including the Nagorno-Karabakh region and seven surrounding districts.
Azerbaijan and Armenia signed a ceasefire agreement in 1994. The co-chairs of the OSCE Minsk Group - Russia, France and the U.S. - are currently holding peace negotiations.
Armenia has not yet implemented the U.N. Security Council's four resolutions on the liberation of the Nagorno-Karabakh and the surrounding regions.

/Trend/